FEATURED STORY
NEVE 8424
Newcastle University adds Neve 8424 Console to their music studios
Newcastle University recently upgraded it's Music Studios building to include the latest console offering from Neve. We spoke with Fred Hollingsworth, Music Technician and Associate Lecturer about why he chose the 8424.
How did this project start for you? What were the needs?
FH: The Music Studios building has been open for a little over 10 years and whilst some regular changes had been made, it was time to upgrade our studios as some of the equipment was becoming tired. To my knowledge Newcastle University has had 4 or 5 different studio refurbishments. One of my frustrations as a technician and lecturer was that we had some great equipment in storage; which didn't have a home due to lack of space or IO in the design of those studios.
Large institutions such as universities often contract an external company to design and install the full studio. This has some advantages however this does not utilise pre-existing resources. One of the requirements which I built into the business case when starting this project was that we needed to take advantage of what we already had and use our budget in the most efficient way possible across different areas. Having installed studios in previous roles, I felt confident incorporating pre-existing studio infrastructure into any new equipment we purchased. We also wanted the studios to be as "plug and play" as possible, so that our students spent less time trouble shooting and more time composing, recording and mixing.
"There is no desk that occupies this price point that gives you this level of hybrid flexibility and also sounds this good."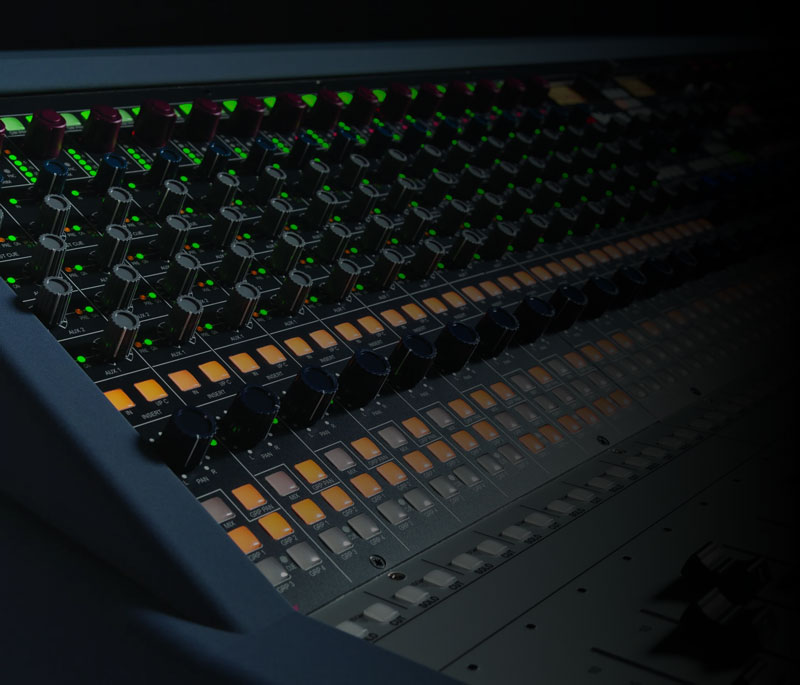 What made you decide on the Neve 8424 as your console solution?

FH: The Neve 8424 is a fantastic sounding product. It's easy to use and can be flexibly used as a DAW controller and analogue mixer at the same time. Our first-year students, with no prior studio experience, can use it easily to make a recording after only a short introduction and it aids their learning of traditional analogue studio workflows and in-the-box approaches. There is no other product on the market quite like the 8424 for the ability it gives you to bring any equipment you already own and incorporate it into your studio with the Neve as a hub. It has two classic Neve 1073 pre amps on board and can be paired with up to three Neve 1073 OPX pre amps, which can be remotely controlled from the desk. However, in my opinion this is not the best way to set up an 8424 (sorry Neve).
Unlike so many consoles, you're not locked into the sonic characteristics of a single pre-amp type with this console. Every channel takes an analogue line in, so in addition to synth and instrument inputs you can combine the sonic colours of different preamps into the same console. This means that you have a palette of different colours to use on your production. You can expand the possibilities further with a patch bay, allowing you to have any number of possible pre-amps/inputs to suit your production or workspace.
At Newcastle University, we currently have the desk wired with 8 channels of Neve 1073 OPX, 8 channels of RME Octamic, 2 channels of Neve 1073 (built into the desk), 2 channels of UA 2-610, 2 channels of Drawmer 1960 and 2 channels of DACS Mic Pre. We'll soon be incorporating some of our synth stock into this setup using a patch bay, which will also mean that students can move channels around the desk to suit their workflow with more ease.
We take direct outs from each channel into our audio interface and into Pro Tools, as well as taking advantage of the incredible analogue summing of the 8424 on the 4 busses and master output. This lets us mix the work on the desk and in Pro Tools then print audio through the Neve 2264 Compressors; which we chose to occupy the two 500 Series slots on the desk as an option with our purchase. There is no desk that occupies this price point that gives you this level of hybrid flexibility and also sounds this good.
In my opinion, the Neve 8424 is perfect for anyone who has a few pre-amps, external hardware units or a bunch of synths who is looking to purchase their first professional level desk. It's a natural step to those people who have acquired a piece of gear at a time to build their studio as their career has progressed. For universities it's a no-brainer. It's small form factor takes advantage of space, which is always at a premium. The Neve care package ensures it's always going to get the service and parts it might need and it represents a value proposition; as it will remain relevant and operational for many years to come.
Why did you choose to purchase the 8424 from SX Pro?
FH: We chose to buy from SX Pro for a number of reasons. First and foremost, they were the only company who spent real time getting the products right for our studio. I had a good idea of what I needed however I (unfortunately) don't spend every day checking out every product on the market. Dale was able to give me some great advice and suggestions for more reliable/better alternative products and engaged with us on getting everything right. Secondly, our policy is to collect quotes from multiple sources. SX Pro were beyond competitive with their pricing and matched any like for like product price from every other supplier. It made our accounts department as happy as it made us as users of their service! Since then, we've been in regular contact with SX Pro, who have shown a level of aftercare we've never really had from a supplier previously. When we've had even the smallest of issues, the team have only been a phone call or an email away.
For more information about the Neve 8424, visit the 8424 product page.
For more information about Newcastle Universities music program, Click here.